Happy Star Wars Day this May 4th!
It's the official Star Wars Day on May 4th – so May the Fourth be with you…. And for you this day wonderful be! Cause who doesn't love Yoda – right? 🤣
So… A long time ago in a galaxy…. um…. in a kitchen far far away under lockdown, a baker decided to create some intersting celebration day cookies and Star Wars day cookies were a definite for the list! Oh man, what fun these cookies were to make. And if I'm being COMPLETELY honest with you, my dear fan, I am a real closet Star Wars Fan…. there I said it… YAY! I could honestly binge watch Star Wars for days. So making a set of Star Wars cookies was a real treat!
So that's a little 'intersting weird fact' about myself…. Who knew that bakesters could love stuff like Star Wars, right! But then, when I really think about it, I'm definitely weird – in a good kind of way – like loving Star Wars I suppose, enjoying Mountain Biking and racing through single track racing trails, laughing my head off at the craziest things because I have a movie real playing in my mind that can literally replay every funny experience. Oh man…. I can literally have a laughing fit all by myself!
Okay, so enough about my weirdness… for now …. let's talk a bit more about Star Wars Day and making some awesome Star Wars cookies. And for the rest of May… check out all the other intersting Ovenly Love News…. Enjoy!
Where does one start with a set of Star Wars cookies?
So starting with a themed cookie set starts with quite a bit of research, technique and planning…. which would normally make most people gag…. but I absolutely love it… Research is my thing! I love gathering data and ideas and then bringing them all together to either solve a problem or create something interesting and fun!
So lets walk through the steps:
FIRST:
One of the first things that I decided to do was to upskill on a few new cookie decorating techniques. And the best place to do that was on Blueprint aka Craftsy were I found tons of cool lessons! I decided on a class teaching you how to make your cookies "POP" and how to create better cookies by improving your basic skills. Yes, even bakesters need to freshen up on their basic skills from time to time. What I loved about these classes was that I could polish my basic skills to enhance my cookie decorating and I learnt a few techniques on creating cookie themes by using standard cookie shapes with just a circle, as in the picture below…
*And if you were wondering…. all that writing on the cookie is done with edible food grade pens. Everything on these cookies are 100% edible and safe.
SECOND:
I needed to pipe the base colours of each character. Any guesses on the characters I chose? 😂 However, Star Wars characters can get quite complicated so I chose to only do 4 characters and then I added the Star Wars logo.
THIRD:
I allowed the base colours to dry for a short while. Thankfully, because these cookies were 'smallish' they didn't take too long to dry….phew! Drying base colours on cookies can be a bit of a downer for cookie decorators. Because we get so excited about finishing our cool cookies but ultimately end up having to W..A..I…T for all the drying. And in some cases it's best to let cookies dry overnight depending on the type of design required 😲
AND LASTLY:
I created the outlines on each character to bring them to life. What a difference it makes right! The excitement is so tangible…. I am totally thrilled – Happy dance 💃
So what is Star Wars Day?
Star wars day officially celebrates George Lucas' Star Wars movies. It is observed by fans on the 4th of May each year. Most importantly, the date was chosen for the pun on the catchphrase "May the Force be with you" as "May the Fourth be with you". How apt!
And did you know that in 2011, the first organized celebration of Star Wars Day took place in Toronto, Canada at the Toronto Underground Cinema, which included a trilogy trivia game show. Shortly after, in 2013 Lucasfilms and Disney also embraced this day as an annual celebration of Star Wars with several Star Warsevents and festivities at Disney Land and Walt Disney World. Ultimately, Star Wars Day was created by the fans, so it is truly their day.
How to celebrate Star Wars Day?
Well, for me it has totally been about creating my own Star Wars cookies to enjoy during lockdown, but I reckon I'll be watching some movies to really round off my celebrations of this awesome day! But besides binging on the movies, I just loved watching a whole bunch of Star Wars cookie decorating videos…. definitely one of my favourite past times.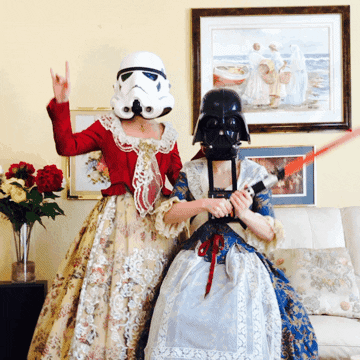 Ideas for celebrating Star Wars Day:
1. Rewatch the Entire Star Wars saga
2. Bake some of your own Star Wars cookies – don't forget to tag me in your posts! I'd love to share your creations. Your cookies will come in quite handy while binging on those movies 🎞📽🎬 You don't need cookie cutters, so don't stress – use your imagination and a knife to carve out some fun details.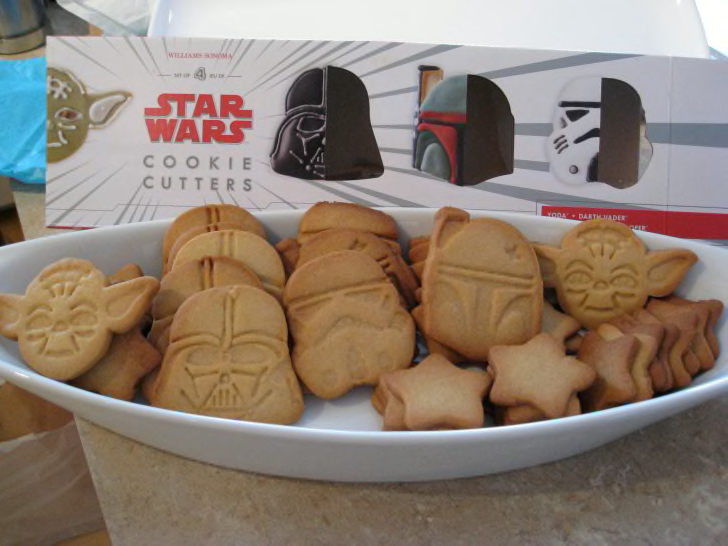 3. Create some Star Wars aircraft or characters with all those Lego pieces lying around.
4. Get creative with some fun Star Wars crafts – like a light saber from a pool noodle…. mind blown!!!!! Check out some other cool crafts here.
5. Create a Star Wars family music video with TicToc…. Oh my gosh, how fun would this be!!
But no matter what you decide to do on Star Wars day, during this Covid-19 aka Coronavirus pandemic, while we are all self quarantined, under lockdown, working from home and unsure of what the future holds for the world as we know it, remember:
RECIPE OF THE MONTH
I thought I'd ask you a question first (before we check out the recipe that will be going out this month) – are you ready?
What time have you been waking up during lockdown? Honestly, how has your waking up time differed over the last couple of weeks?
As your honest and open Bakester I have to admit that my waking up time has become about 1-2 hours later than normal. But, this is totally normal according to a survey done by mybroadband.co.za. The majority of South African's are waking up between 06:00 and 08:00 in the mornings with only 15% waking up between 05:00 and 06:00…. especially since 87% of the respondents said that they are working from home during the national lockdown.
I've also noticed that the winter weather is slowly moving in, so a few extra minutes under the covers in the mornig is totally understandable right? As a result, I totally had to share my favourite rusk recipe with you – to enjoy as a quick breakfast treat while snuggling up in bed, after your late wake up time and to enjoy with the cooler weather that's slowly creaping in.
This recipe is super easy, the ingredients can be easily found at the strore and best of all it's soooooo YUMMY. Plus you can add any of your favourite flavours easily! Just click on the image below to go to the recipe….
CHERRY PECAN BUTTERMILK RUSK RECIPE
BAKING TIP #1
How to make your own Self- Raising Flour
You've just come back from the store and you're packing out all of your ingredients to start baking and ….. EEEEEEKKK…. you forgot to buy Self Raising Flour….. but don't stress, here's a quit DIY to making your own to bake with at home…
Mix together the following ingredients:
1 kg All-purpose flour
4 tablespoons baking powder
2 teaspoons of salt
TA DA!!!!!! Easy Peasy!
BAKING TIP #2
How to make your own Buttermilk
….and you forgot to buy the Buttermilk too…. oh dear! Here's a quick and easy alternative. Plus, this works so easily in any recipe as an alternative whenyou forget to buy the real deal.
In a 250ml (1 cup) measuring container put 1 tablespoon of lemon juice or spirit vinegar, fill the rest of the container up to 250ml (1 cup) with full cream milk. Let stand for 5-10 minutes and TA DA… buttermilk in a cup! Enjoy!
PRODUCT OF THE MONTH:
MOTHERS DAY
Let's remember to give a MASSIVE shout out to all our amazing Mom's this MOTHER'S DAY! Mother's Day is celebrated on Sunday, 10 May this year, so don't forget to spoil the most amazing women in your life. Big hugs to all of our Mom's and an even bigger thank you for all that you do for us! We love you!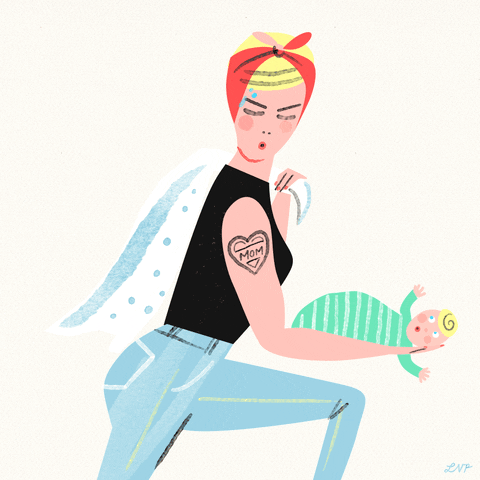 REMEMBER:
Life doesn't come with an instruction manual, it comes with a mother!
Due to the Covid-19 lockdown in South Africa there will only be 2 gift options available for Mother's Day cookies for pre-orders on the webiste. Pre-0rders will close on 5 May 2020. Deliveries will be completed after lockdown is lifted. Check the gift boxes out here.
DATES TO REMEMBER:
Enjoy yourself this May and remember to spoil Mom!
I'd love to know how you are doing during lock down and see what you've been baking, so feel free to pop me an email here. I've been enjoying some time outdoors, playing with my pup and prepping tons of content, recipes and new products for Ovenly Love.
Also, I'd love to help you with any of your baking questions for all your yummy creations.
Wishing everyone a great month of May
Big hugs
Jax
xxx